Programs for 2 Year Olds

Goals of the Program
・To continue developing relations with the teachers and a desire to do things on their own little by little
・To enjoy the activities they like and become even better friends with others
・To further imagination doing activities with the teachers
Nursing
・Develop a sense of self-pride
・Start become more motivated and confident, learn to sympathize, and gain the desire to do things by one's self
Education
Health:

Want to do things by themselves

Relations with Others:

Learn to share one's thoughts. Also teaching rules such as wait one's turn

Environment:

Enjoy new games such as make-believe, and enjoy the playground and equipment available

Words:

Start learning simple words through play and ordinary life

Expressions:

Expand enjoying play with teachers and friends
Mental Development
・Develop skills with imagination, focus, memory, and expression
・Want to challenge themselves on their own
・Exchange words and master more expressions
・Develop an ear for listening to English
・Improve social and communication skills as well as broaden expression and imagination ability
・Learn the colors as well as how to combine them to make other colors
・Learn simple math skills for everyday life
・Doing exercises to develop the whole body and work on getting balance
・Using fingertips to develop motor skills through various parts of the body
Food
・Learn the joys of eating and become motivate to eat
Daily Schedule
※To view specifics on a particular subject, please click on the bell icons

Music time 
Snack time
Lunch time 
Afternoon nap 
Wake up, temperature taking
Snack time
Small circle time 
Free play
indoor or outdoor play
Prepare to go home
Go home
※The above chart may be subject to change.
Music time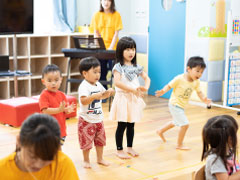 Music time
English songs and events for all seasons
Kids will have lots of fun dancing to the rhythm and singing along. Through music, kids can get pronunciation like natives and it's always relaxing to hear their favorite songs.
 Daycare activities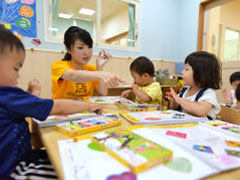 Daycare activities
Drawing pictures, dancing, and other fun activities
We have activities for all seasons and show kids how to use all kinds of tools for drawing, coloring, etc. We also do lots of physical activity as well.
 Outdoor play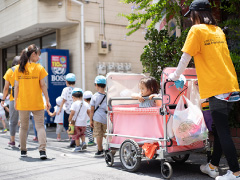 Outdoor play
Outdoor play in the sun
Whenever the weather's nice, we take the kids out to play at the park nearby. Outdoor play provides great exercise and kids love the play equipment and sand box. The natural outdoors is a great way to bring out kids' feelings.

※On rainy days, we'll do indoor activities such as playing with blocks or clay
Lunch time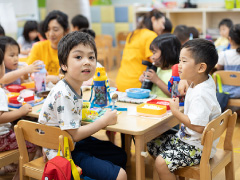 Lunch time
Lunch time is fun time
With the help of our staff, kids will enjoy a nice, quiet lunch with their friends and learn how to use spoons and forks. Lunch time is always a fun time!
 Afternoon nap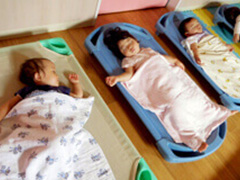 Afternoon nap
Rest after afternoon activities
After so much activity in the morning we have nap time right after lunch. Kids sleep on small cots.
 Small circle time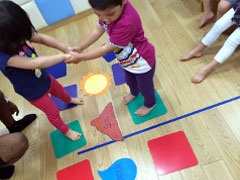 Small circle time
Small circle time with teachers
In the afternoon, we have "small circle time" where kids get to play simple English games, sing English songs, and just simply have fun with English. For 1 year olds, this also gets them accustomed to the English lessons and prepares them for later lessons.
Daycare Pricing
General Daycare Costs (Lunches and Snacks Included)
| Age Group | Base Fee |
| --- | --- |
| Children aged 2 | 35,700 yen / month |
| | |
| --- | --- |
| Daycare hours | 7:00 - 18:00 |
| Age Group | Children aged 2 |
| Base Fee | 35,700 yen / month |
English Daycare Costs (All Age Groups)
32,000 yen / month